Testimonials
Dave - Porsche 997 C2S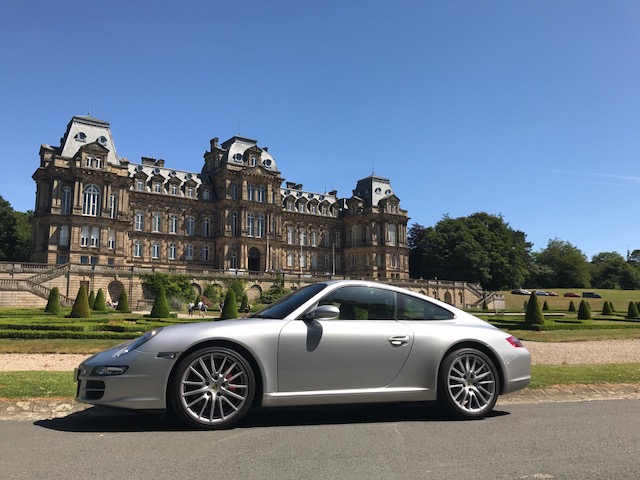 When I started considering getting a Porsche I took my time to research the various specialists and indeed OPC's out there, having been fortunate enough to own two of these cars in the past, experience taught me, buying and support experiences were rarely commensurate with premium products.
Everything pointed to RPM and after meeting Andy and Nick I knew it was then just a case of waiting for the right car. That came along some six months ago a 997 C2S. I dealt with Andy over the purchase whom was incredibly helpful from start to end, totally supportive, no pressure, answered all my questions and proved an impeccable knowledge of the cars and the marque.
The car had been prepared to a high standard, a credit to the previous owner along with RPM. Andy showed me over the car and around the workshop which I found also showed complete transparency to be able to view 'behind the scenes'.
I did have a minor issue with the car, air con leak, which was dealt with in the same courteous supportive manner and totally fuss free. This highlighted for me how good RPM are overall, it's always very revealing the way a company deals with any issues.
Overall, I could not recommend RPM highly enough, second to none.
Paul H - Porsche 987 Boxster 3.4 S
Spot on service. Allowed time to view, drive and consider purchase properly with no pushy sales banter. Happy to fit in with my timescales. Excellent experience.
Val Lenton
From "calling in" several years ago to see what it was all about, to today after a nervous period of diagnostic repairs and regular maintenance work on our 964, the whole Team at RPM have been absolutely great to deal with. We have regularly made the 160 mile round trip up to Knaresbrough for servicing as well as dropping by for a chat just because we were [almost] passing. We also have experience of both buying and selling vehicles at RPM, they are fair, understanding and knowledgable, interested in you and your Porsche. The workshop is always busy but spotless and their open door approach is what makes a visit there more like a trip out to see friends and less like the typically daunting proposition of taking a Porsche to a garage! Well done guys, thanks for everything and keep up the good work, see you soon.
Bob Leighfield - Porsche Cayman
Not enough stars available to rate RPM in my opinion. We bought a Cayman from them, which was our best ever car purchase experience and subsequently have had servicing and repairs on the Cayman and also our Boxster. 100% on their game when it comes to product knowledge and customer service, we can't recommend them enough.
Steve Jackson - Cayman
First class service. I'm a Porsche novice . Everyone at RPM are very welcoming and enthusiastic about the cars and the service they provide. Nothing was too much trouble and my wife and I felt reassured by they way they treated us. We were highly delighted with the care and attention they had given to the car prior to handover, picking up and correcting things that we would never have noticed. To cap it all they are genuinely nice people who clearly pride themselves on the exemplary service they offer. Thanks to all.
Bryn Kensey - Boxster Gen 2 2.9
Bought a 2011 plate Boxster this week. The car was thoroughly prepared, machine buffed and waxed, above and beyond normal dealership standards. A genuine Porsche independent specialist with partners and staff that you can trust. I will have no hesitation in bringing my vehicle back for it's next service. Good experience, no bull, highly recommend RPM.
Terry Witherley - 996 C4S
Buying the car was a smooth and enjoyable experience. Andy and Nick were helpful, informative and very knowledgeable. All of my questions were answered quickly and accurately leaving me very confident in buying my first Porsche from RPM. The car is everything I had hoped it to be and is a total pleasure to drive, the warranty given with the car gives me total peace of mind and I look forward to many hours of happy motoring
Mr D Wyrill - Porsche Boxster - Sales & Service Customer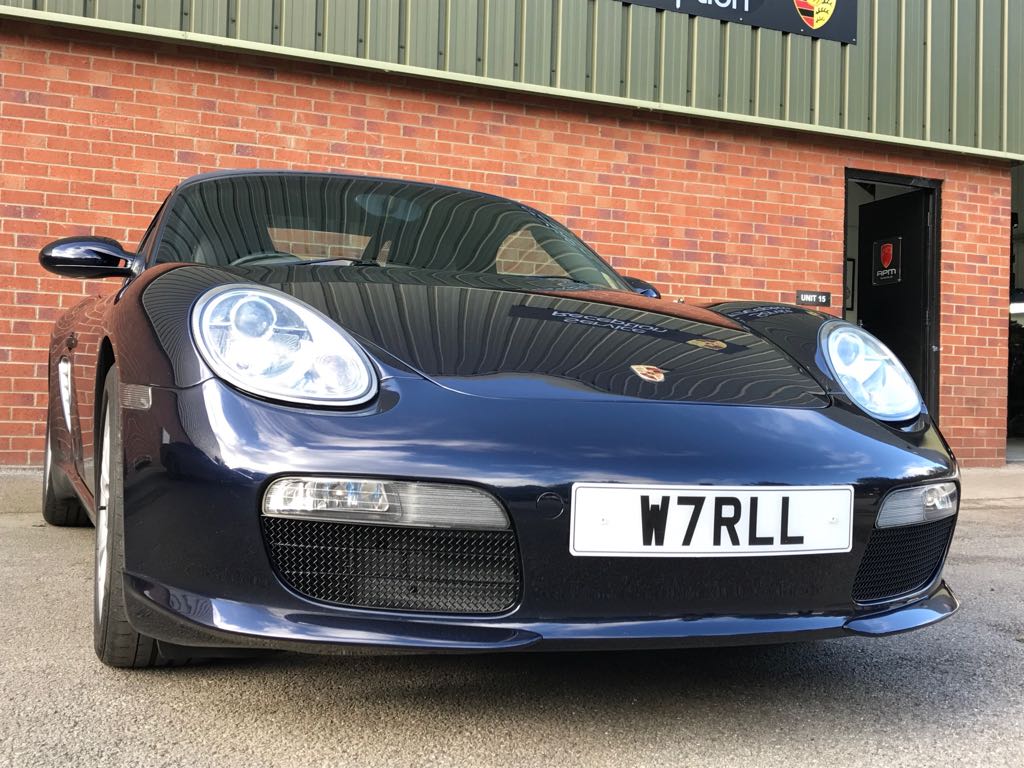 Just had some Zunsport front grilles fitted to my Porsche Boxster. Over the moon with them and would recommend them to everyone. Thanks to they guys at RPM, decent blokes and a great service.
Clare Bennett - Porsche 996 C4S - Service Customer
I just want to pass on my thanks to David, Ash and Craig for the work recently carried out on my car.
I have no hesitation in recommending RPM to any other Porsche owner. Their knowledge and passion for excellence is obvious. Photographic evidence and explanation of work required was a great help - neither techno-babble nor condescending. The work needed on the car was carried out to schedule and budget with a couple of items on my list deemed as not yet necessary. How refreshing to work with a garage that has the car and owner's interest rather than profit at the heart of their service.
This car is "a keeper" and I look forward to RPM maintaining it.
Regards
Clare Bennett
John Conners - Porsche Cayman S - Sales & Service Customer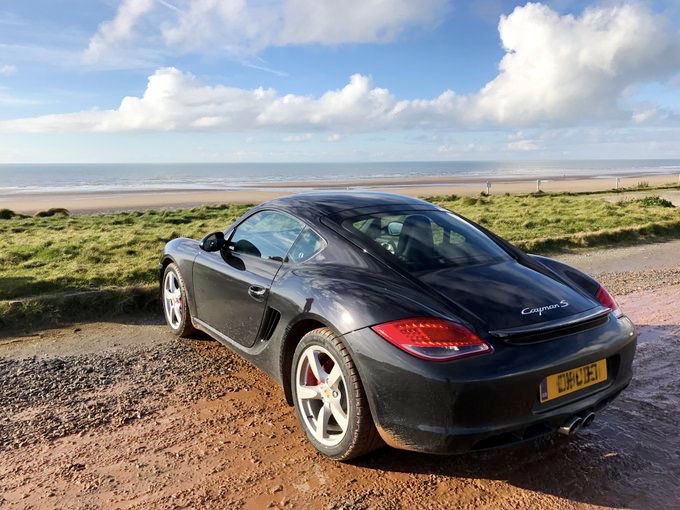 "Having bought 2 cars from RPM now I've continued to be delighted by the exemplary service offered by Nick and Andy. Thanks again guys!"
Lawrence Kendall - Porsche 996 - Sales Customer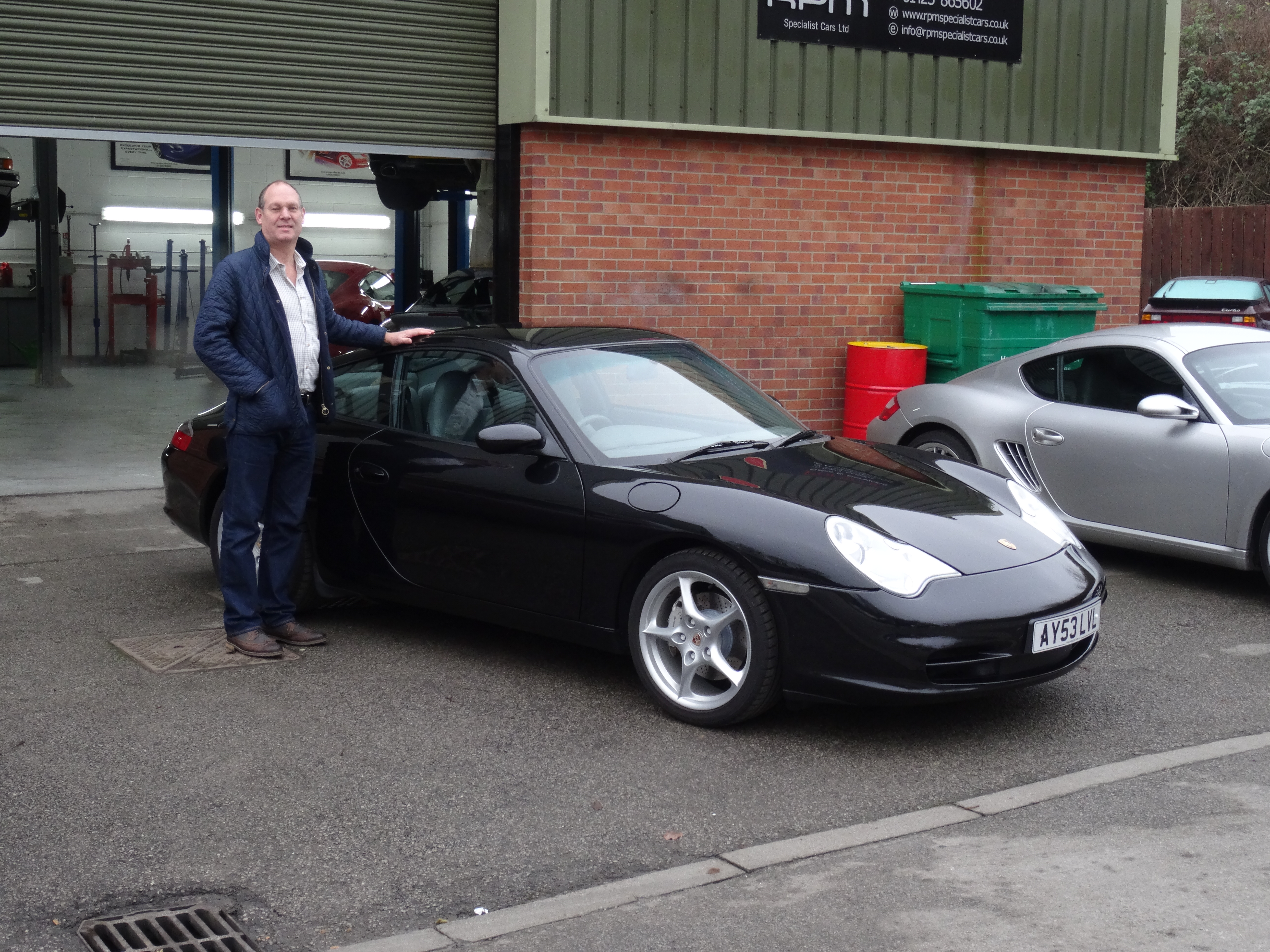 "After months of searching and lots of research and miles traveling to view vehicles between Somerset and Yorkshire to find a car practically on my doorstep at RPM was ideal. The guys were very informative and extremely helpful and I would definitely recommend doing business with them and will definitely be back when we need a service.
The pictures says it all ... one very happy customer 😊
Regards
Laurence Kendall
Simon - Porsche Boxster S - Sales Customer
Hello Nick and Andy
Just to say got back safely. The car performed perfectly all the way. Roof down from Annecy and again this morning on the way to the office!
Many thanks for all the help and for the sale of a truly superb car. The only question left is can I tie in things to do in the UK each year so I can warrant bringing it back to you for servicing!
Here's a picture of the car at home this morning.
Thanks again
Simon
Dr John Settle - Porsche 996 Turbo X50 - Sales Customer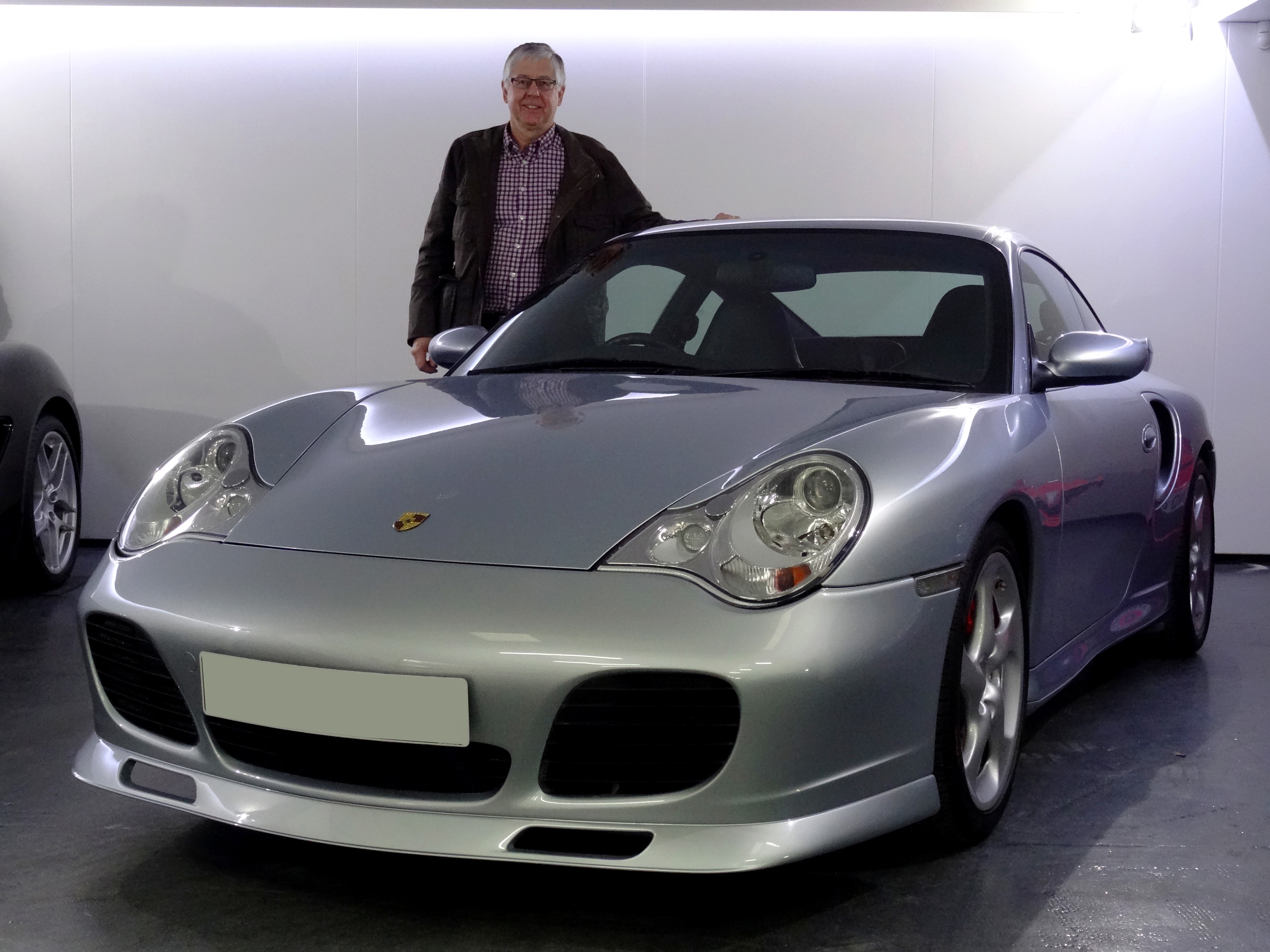 Hi Andy,
What a great set of guys you are at RPM - specialist by name and specialists by nature!
I found your approach refreshing and combined with good old Yorkshire down to earth style. This was a great help in my choosing my first Porsche, both as an investment and to enjoy. No high pressure, willingness to 'do a deal' and nothing down to the finest detail too much trouble.
Keep it up and I'm sure your business will go from strength to strength. I'll be back and hope many more customers will discover this hidden gem.
Cheers,
Dr. John Settle
Mr M Holliday - Boxster 986 3.2 - Sales Customer
Morning Andy / Nick,
It's been a big moment, buying my first Porsche, years of eager anticipation.....well now I've done it I can honestly say it's one of the best motoring decisions I've ever made. The car is better than I'd imagined in so many ways – torque, handling, grip, build quality etc etc. I can't imagine buying any other car that could match the performance and experience for the same price. Thanks to you and your team for a first class service, at every point in the buying process I had confidence that I was doing the right thing, not all car buying experiences are the same. Your attention to detail is appreciated. See you at service time.
(Feel free to use this on the website testimonials)
Cheers, Martin
Mr M Adderley - Boxster 2.9 987 - Sales Customer
Hi Andy and Nick
Just wanted to say a belated thank-you to you and your team for the Boxster.
The car is fabulous ; immense fun to drive and was beautifully prepared when I collected it fortnight ago. Thank you also for taking the time and trouble to steer us through the various model options over the course of the last three months.
I look forward to doing business with you over many years to come.
Regards
Mark Adderley
PS I may have the names wrong, but please could you also pass on our thanks to Max and Gavin, who helped us out on a couple of occasions when you were tied up - they are a credit to RPM.
Mr M Duffy - Boxster S 987 - Sales Customer
Hi Guys, I bought a Boxster S, from you a couple of months ago and would like to say a big belated thank you. The car is amazing and so was the buying experience from start to finish. I would highly recommend you to anybody and can honestly say it has been the best car buying experience I have had. I won't hesitate to bring the car down when I need any work doing etc. Thanks again Mark Duffy
Mr & Mrs Barrit - 987 Boxster S - Sales Customer
Dear Andy, Nick and the team at RPM,
Bev and I just wanted to drop you a line to say thank you for your excellent and friendly service in helping us through our first foray into Porsche ownership. Nothing has been too much trouble for you down to the smallest detail. So far the car has been fantastic and we look forward to a long standing relationship with you and your business in the future.
Many thanks
Dave Barritt
Mr R Kirk - Boxster 2.7 - Sales / Services Customer
Hi Nick & Andy,
This weekend has confirmed again how fantastic the Boxster is, it ran perfectly and the weather was kind enough for us to have the top down on Saturday afternoon and for the 60 mile St George's Rally round the Cotswolds on Sunday. I have been on leave for 10 days and with this run, going to the PCGB AGM the previous weekend and other shorter journeys I have covered about 1000 miles, all trouble free.
I am always impressed with the level of customer focused service you have given me with the 924 Turbo which gave me the confidence to buy this car with so many of your service stamps in the book. Your approach to the small issue we had with the windscreen washers reinforced this, along with the extent of the pre-sale preparation you put the car through. I am pleased to say we did not get chance to try out the new washer switch until late on Sunday evening but it worked perfectly, never in doubt really was it?
I look forward to bringing the Turbo for its annual service and enjoying another cup of your excellent coffee.
Please find attached a picture of the car after an afternoon of Swissvax when I got home on Friday, I never get tired of caring for these cars and am jealous of you guys being able to make a living from it.
Thanks again,
Richard & Judith Kirk
Mr C Rayment - Cayman S - Sales Customer
Firstly I would like to say thank you to you and your colleagues for the preparation of the car and the great experience I've had dealing with you. The car itself is phenomenal and has exceeded all of my expectations- the drive home felt like five minutes.
Mr G Taylor - 996 C4S - Sales Customer
'Thanks again Andy and team at RPM for the quality and service around the recent purchase of my car from you. As a new buyer I was looking for assurance that the car had been thoroughly examined and any, even slight, issues addressed so that the car was the best quality that it could be. I felt that you had this approach ingrained in your care for the marque and in upholding your reputation for quality. I look forward to using you for future servicing needs'
Mr C Stones - Porsche 987 RS60
When I decided to buy my Boxster from RPM I was taken aback to see the huge amount of effort that Andy and Nick put into getting the car ready for me. As well as giving the car a major service and a new MOT test, the car had been thoroughly examined, any parts that were wearing out were replaced and anything that needed adjusting was put right. So when I took delivery the car was in near perfect mechanical and showroom condition. I cannot imagine a main dealer - or any other dealer for that matter - putting in this amount of work, or providing such an excellent and professional service. Clearly Andy and Nick take a great deal of pride in their work. I cannot recommend them highly enough. Thanks guys.
Mr A Maw - Porsche Boxster 2.5
Thanks guys for another great job on my Boxster.
Really enjoy coming over and spending time with you guys. Nothing is ever too much trouble and it's great that I can get under my car and discuss any issues!
Oh and the car feels great after the suspension work and geometry set up!
Thanks again and look forward to my next visit.