If you are looking for a powerful sound enhancement for your Porsche exhaust, we can provide a range of solutions which are proving popular with our customers and we believe are the best options.
All Porsche models are fitted with a silencer box which in recent years, have been engineered to produce lower decibels when accelerating.
To produce an aggressive sports exhaust tone desired by enthusiasts, our technicians will remove or bypass the silencer and fit a sports exhaust specifically designed for your Porsche model.
Below are a range of options which we have recently installed by our technicians here at RPM.
Porsche Sports Exhaust (PSE)
The Porsche Sports Exhaust system is a genuine Porsche product designed to fit both Porsche 981 Boxster and Porsche 981 Cayman models.
This system is specifically designed to enhance the sound of the exhaust by replacing the original silencer with a switchable sports system, this includes an integrated switch within the centre console enabling the user to control the volume and accoustics. The option to add twin sports tail pipes is also available.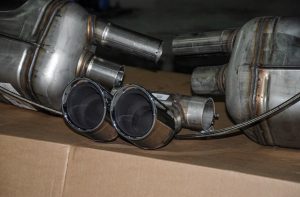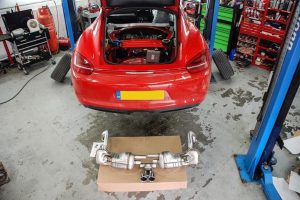 Shark Werks Exhaust
The Shark Werks Sport Exhaust system dramatically improves the sound of any 991 GT3 or GT3RS or 991.2 GT3 Models
This direct bolt-on exhaust system is installed into the factory location without any modification and is completely reversible.A Muffler Bypass System replaces the centre muffler to achieve the desired sound with minimal resonance.
Another benefit is the reduction in weight to the rear end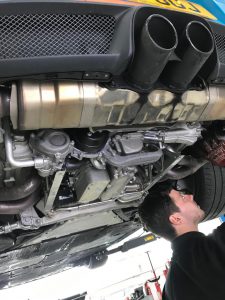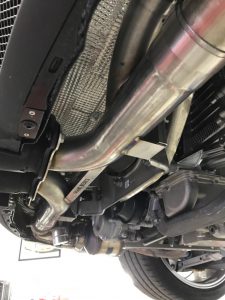 Carnewal GT Exhaust
The GT exhaust is a reworked original exhaust, installed by our trained technicians to produce an enhanced sound on various Porsche models including, 981, 986, 987, 996 and 997 variants.
The external aesthetics of the exhaust remain the same while internal changes provide a less restrictive exhaust with improved air flow. The result is a louder and deeper tone with minimal resonance.
If you would like to discuss enhancing your Porsche exhaust, please give one of our team a call who will be more than happy to help and guide you through the various options available for your specific model: 01423865602