If you discover an Oil leak on your Porsche 996 or 997, there is a strong possibility the Rear Main Seal (RMS) has worn and needs replacing. Another possibility is the IMS bearing seal which we would recommend replacing at the same time as the RMS.
RMS problems are common on Porsche 996, 997, Boxster and Cayman models and in most cases they usually cause nothing more than a slight oil leak however, in some severe cases it can cause contamination to the clutch friction plate, resulting in poor gear selection and loss of performance.
The rear main seal is located at the end of the engine where the crankshaft comes through to meet the clutch and gearbox. The seal is there to stop engine oil leaking through around the crankshaft.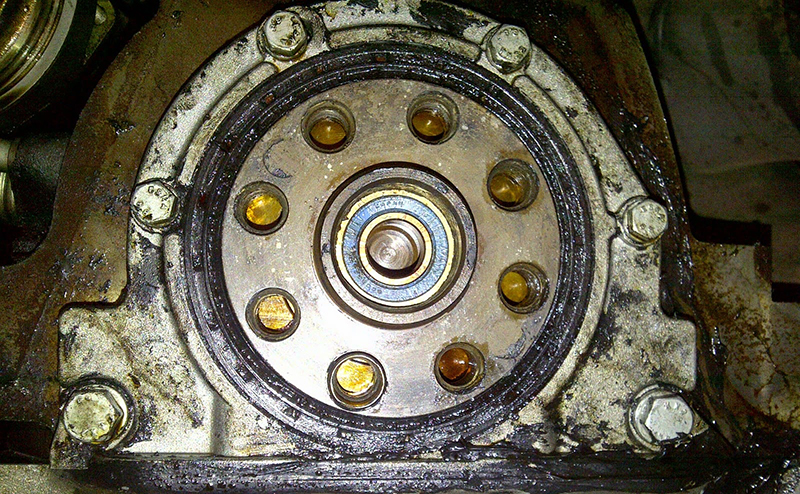 The rear main seal was redesigned by Porsche a number of times, which improved the reliability but it never really solved the problem fully. If your Porsche is leaking oil and you are concerned, we would suggest taking your car to a reputable Porsche specialist to have it inspected. However, if it is just a small weep of oil, we would usually recommend leaving it until you require a clutch replacement.
The seal itself is an inexpensive part but the replacement is a labour intensive service where removal of the entire gearbox is required to access the RMS. In some cases the suspension and exhaust components are also required to be removed.
RMS replacement requires a specialist tool to ensure the seal it aligned exactly, this then presses the seal into place providing a snug fit.
If you would like to discuss any of our services, we have experienced Porsche technicians at the end of the phone who are more than happy to help and provide you with advice. Please contact one of our team on 01423 865 602