As part of our Porsche detailing services, we now offer Porsche caliper and hub painting service, the calipers are completely stripped of the old paint and decals, re-painted with OEM correct paint and new Porsche decals applied.
It makes such a big difference to your wheels and there's nothing worse than having a nice set of alloys on a great looking car, to have a rusty or dull set of callipers behind them.
Porsche come from the factory with a thin layer of paint applied to the hubs and calipers, this can rust over time and cause the paint to flake away. Having the calipers refurbished with a fresh coat of paint will transform the look whilst retaining the factory finish you desire.
Cost of Porsche Caliper and Hub Painting
When your car is in our detailing bay for brake caliper and hub restoration, we will bleed the brake system and replace any worn out parts. Below is a breakdown of what is included when refurbishing all 4 callipers on a Porsche 981
Removal of the calipers
Refurbishment of 4 calipers
Hubs stripped and painted
New piston seals
New bleed nipples
Refitting of calipers
New securing bolts
Bleeding of the brake system
Time sale approx 7-10 days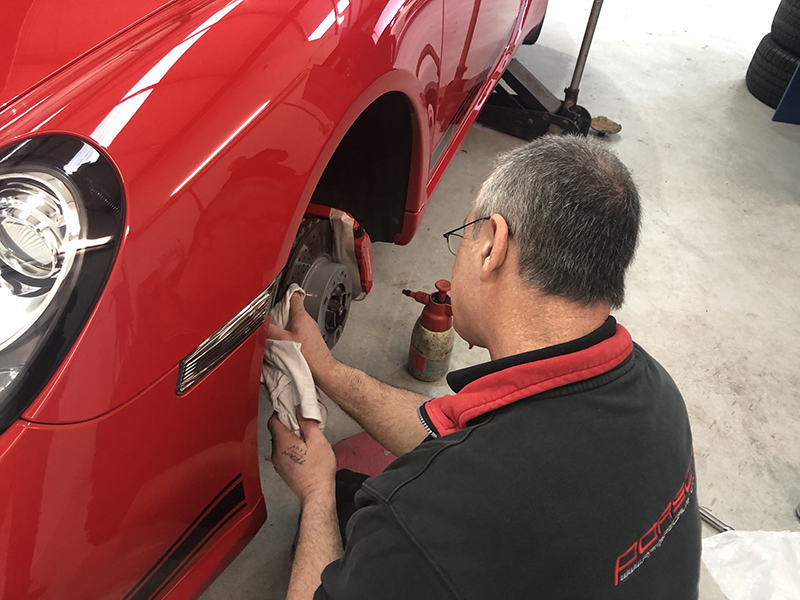 In addition to the above items, we may need to replace some small parts if they appear to be worn or rusty, these items include the following parts:
Brake pad mounting kit
Connecting brake link pipe
If you would like a price for our Porsche caliper and hub painting service, please contact our team on 01423865602 or click the enquiry button below to fill out a contact form.To find out more about our Porsche detailing services, please take a look at our detailing page