Paint Correction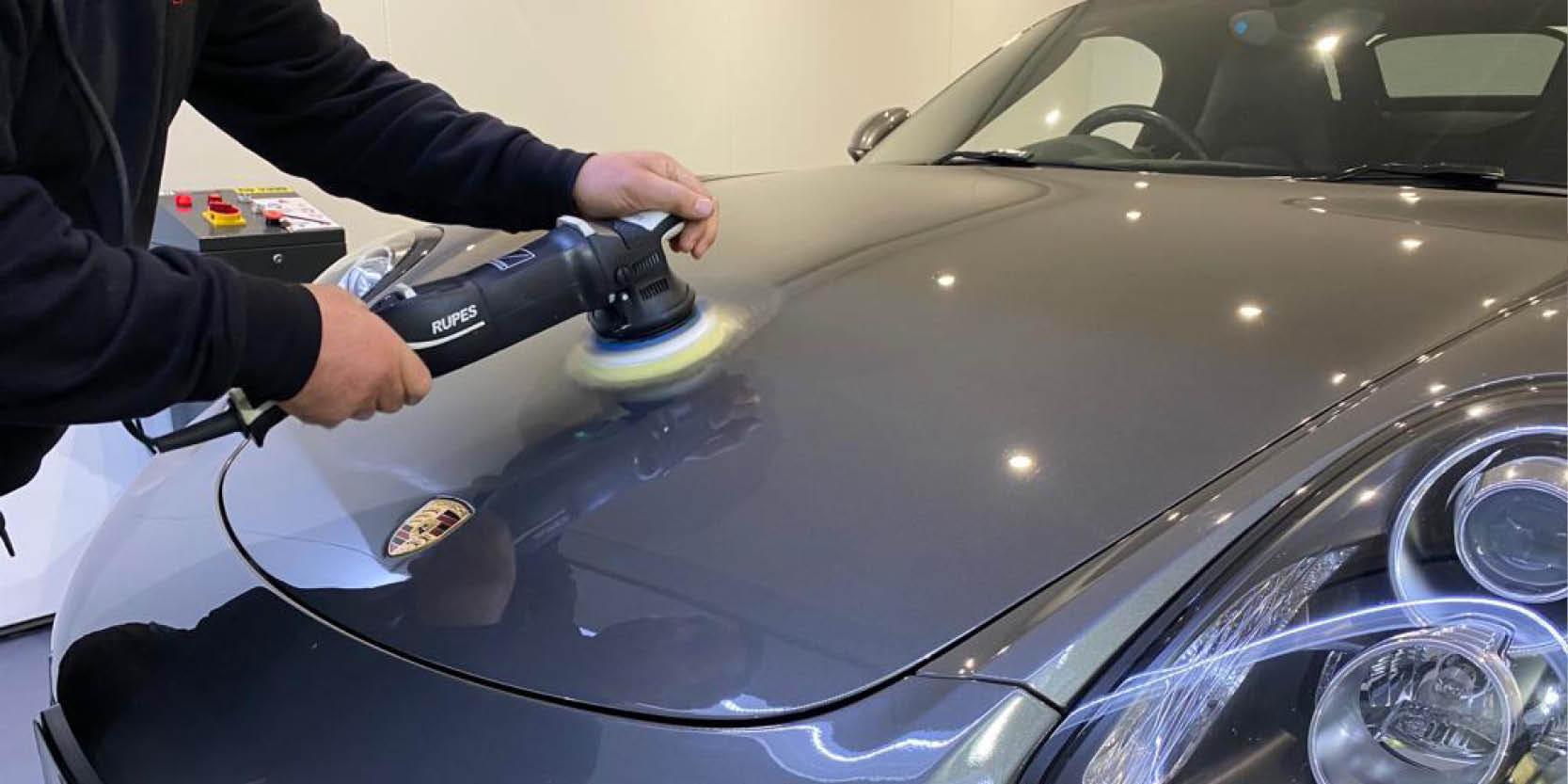 Here at RPM Specialist cars we now offer a full range of detailing and paint correction services. Our in house detailing specialists can help you determine the best option for you and your Porsche.
We often get asked by our customers what detailing / paint correction is and what the differences are between wax products, sealants and ceramic coating.
Paint Correction Detail
Paint correction is the process of machine polishing paintwork to remove swirl marks and imperfections to give your Porsche that deep, glossy showroom shine you get with a brand new car
Our paint correction detail service includes everything listed in our Full Valet with the addition of:
Clay bar full vehicle to decontaminate the paintwork in preparation for machine polishing

Full machine polish (stage dependent on condition of paintwork)

Full wipe down with IPA to remove any oils ready for the application of ceramic coating

.

Carnauba wax applied to the vehicle (if not being ceramic coated)
The level of machine polishing required is dependant on the condition of the paintwork, see the image below showcasing the most common paintwork defects: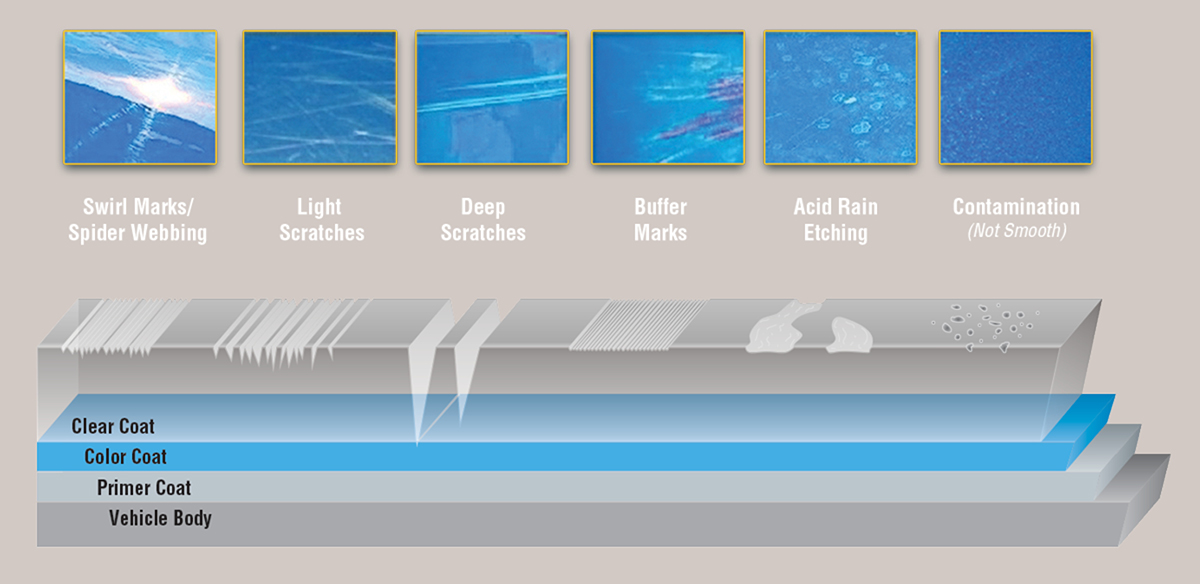 There are 3 stages of machine polishing, each level is dependant on the condition of the paintwork:
Single stage
A single stage paint enhancement uses just one type of polish and pad combination. This is suited to paint work in relatively good condition with very minor swirl marks from cleaning. This Single Stage Machine Polish involves refining the paint work which is then followed by a wax or paint sealant to protect the paint work.
Stage 2
A stage 2 paint correction is for vehicles that have moderate swirl marks and light scratches. As the name suggests, it involves using 2 different polish and pad combinations; the first step is a more abrasive compound to remove swirl marks, light scratches and other moderate paint defects. This is followed by a finishing polish and finishing pad to refine the paint work even further by removing any marring or holograms left by the previous step.
Stage 3
This is the most intense technique used for cars with heavy swirl marks, scratches and other significant paint defects. It involves using 3 different polish and pad combinations. The first step is a heavy cutting compound with a heavy cutting pad to remove deeper swirl marks and scratches, the second step is a cutting polish and medium polishing pad to remove lighter swirls marks followed by the finishing polish and finishing pad to further refine the paint work to a high gloss finish.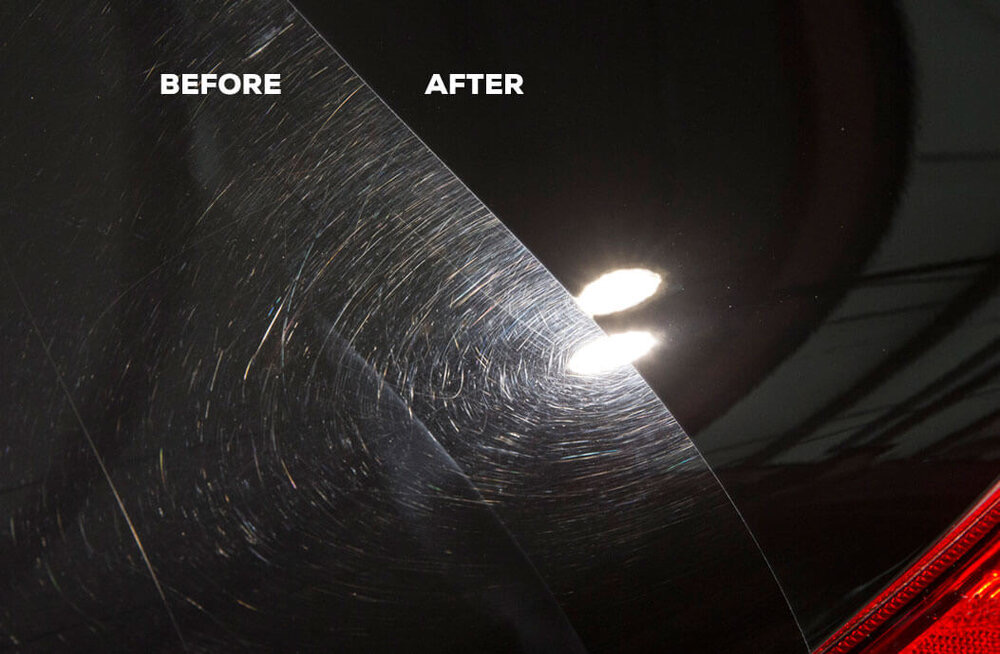 The coatings explained
Protecting your Porsche is one of the best investments you can make, so we've put together an explanation of the main differences between wax, sealant and ceramic coating to help you choose the most suitable paint protection for you and your Porsche.
Wax coating
"Waxes are easily applied and achieve great results, however, do require more frequent maintenance top ups."
More commonly known and used on the market, wax is the easiest protectant to apply to your Porsche and can be applied professionally by an expert or done by you, the owner. A wax is usually less durable and may require more upkeep than a sealant, however can produce deeper, more glossy shine.
Sealant coating
"Paint sealants are synthetic based, and while they too are a protectant like wax, they are generally much more durable."
Paint Sealants are a synthetic, polymer-based alternative to a traditional car wax and offers a more durable protection than most waxes. Whilst a car wax does a great job in creating a glossy finish, paint sealants tend to repel water and grime for longer, resulting in less upkeep.
Ceramic coating
"A Ceramic coating offers a dense protective layer to help shield your paint from the elements."
Unlike traditional waxes and sealants, a ceramic coating forms a semi-permanent bond with the vehicles paint, and is made up of tiny particles that sink into the pores of the paint to form a protective shield with a hard ceramic finish. Ceramic coatings should only be applied by fully trained and qualified professionals who are experienced in the correct application process.
Ceramic Coatings
As part of our Porsche detailing services, we now offer Carpro professional ceramic coating. Find out more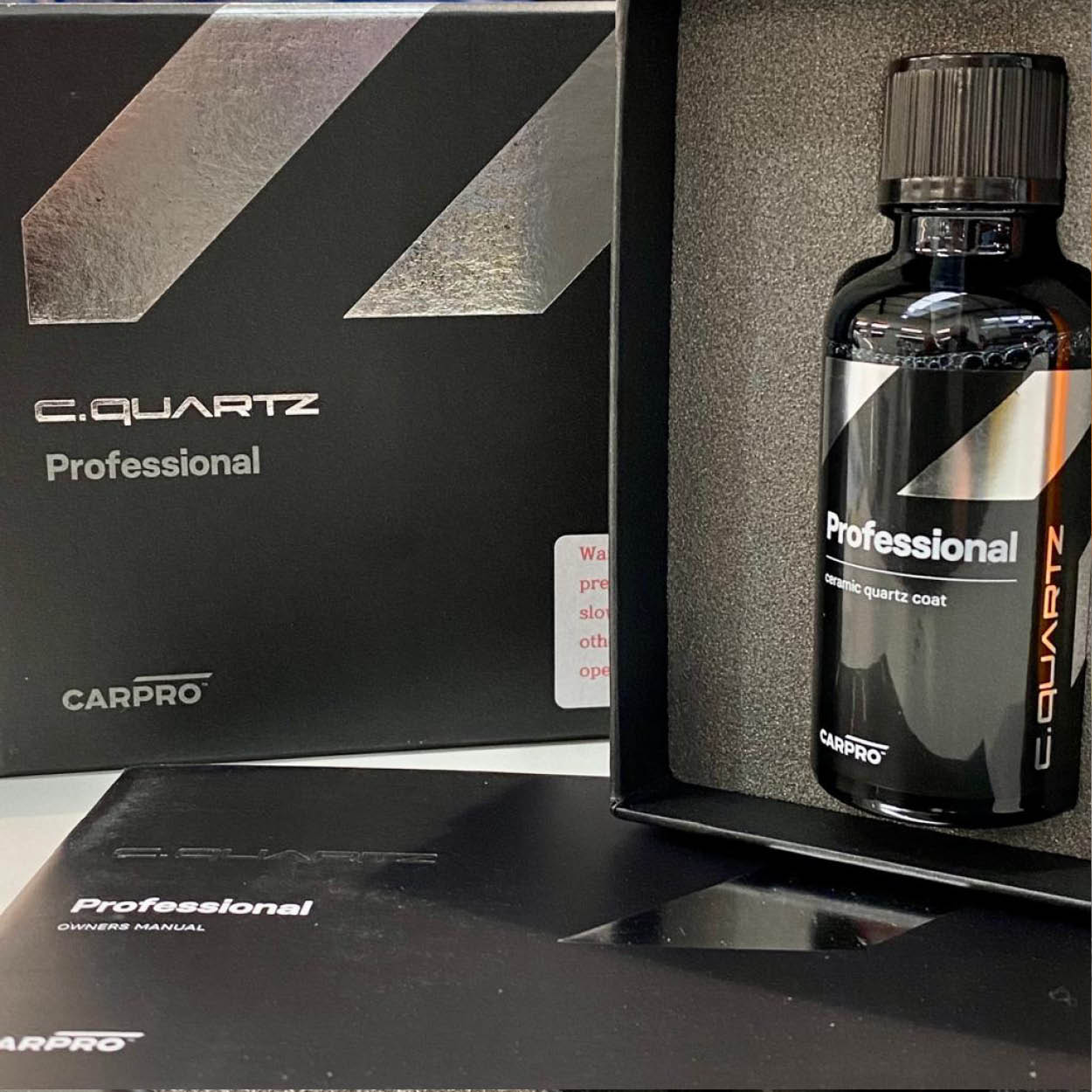 For further information on our detailing and paint correction services please contact our service department on 01423 865602 or hit the button below and complete one of our enquiry forms.